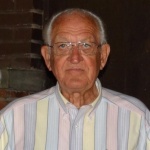 James Arthur Landreth
Born in Greenville, SC on Mar. 1, 1935 Departed on Oct. 13, 2014 and resided in Greenville, SC.
James "Jim" Arthur Landreth, of Greenville, husband of Patsy Revis Landreth, went home to be with his Lord and Savior, Monday, October 13, 2014. Born in Greenville, he is the son of the late Shannon and Rosie Vaughn Landreth.
Jim spent 50 years in construction most recently with Cely Construction Company of Greenville. He was a member of Westview Baptist Church. Jim had a great love for God, his family, and friends. He had a passion for his work, for helping others, and singing. He loved to combine his building and construction abilities with giving back to his community. He worked on many church projects as well as helping those in need wherever he saw them. He had a very loving and giving heart and was greatly admired and loved by all who knew him.
In addition to his loving wife, surviving are a son and daughter-in-law, Lee and Lisa Landreth and grandson, Jason Landreth. He is also survived by his son, Michael, his sister and brother-in-law, Estelle "Stella" and Don Longley, and many other family members and loved ones.
Memorials may be made to McCall Hospice House, 1836 West Georgia Rd., Simpsonville, SC 29680.