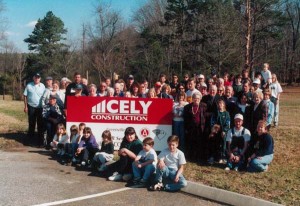 Tradition is important to Sam Cely, owner of Cely Construction Co., but his 60-year-old company uses some of the newest procedures and products on the market for its clients.
Cely Construction began life in February 1948 as Cely Brothers Lumber Co.
Although the company has changed names over the years, it has never changed its location at 800 S. Washington Ave., not far from the Greenville Hospital System's Memorial Medical campus.
With about 30 core employees, Cely Construction hires subcontractors and their crews as needed for the job it has.
"Almost from day one, Cely was a church contractor," said Henry Bellew, Cely's director of business development.
Cely said that while projects go from $10,000 to $4 million, most of his jobs including building church sanctuaries are in the $1 million to $2 million range. His smallest jobs tend to come from clients he does a good deal of work with, who just add on a small project.
Project size, however, is where Cely wants to grow. He's looking for larger projects in the $5 million range. And as he grows, his work force will expand.
But he wants to continue to be known as a "blue-chip" construction company: "My goal is not to be the biggest out there. I want to be the best." And he wants to remain diversified, doing different types of work and different size projects.
The company started with several family members working in it and that's still the case."
Excerpt from The Greenville News, Sunday March 2, 2008 by Jenny Munro